Travel Diary Chile part 0 (January to February 2005)
<<back
18.01.2005 01:36:26 AM - nic
Drei Tage, fuenf Flugzeuge spaeter und 16 Stunden in der Zeit zurueck: Santiago de Chile. Neues Jahr, neuer Kontinent, neue Welt!
Morgen ist es tatsaechlich schon ein Jahr, seit wir am Flughafen Zuerich ins Flugzeug one way nach Bangkok gestiegen sind.

Hier spricht man Spanisch und nur spanisch. Kein Englisch... Das ist gut, so lernt man die Sprache am schnellsten. Asta la vista, buenos dias, un dos tres, aehm und machmal funktioniert auch ein Wort auf italienisch (von welchen wir leider auch nicht viele haben...) oder Englisch, aber das kanns nicht sein! Erste Mission, ein Buch kaufen und diszipliert lernen...!


07.02.2005 06:03:20 PM - nic
CHILE
07.02.2005 06:05:10 PM - nic
Hauptstadt: Santiago. Hier lebt auch der Grossteil der Bevoelkerung von Chile
07.02.2005 06:06:20 PM - nic
07.02.2005 06:08:16 PM - nic
07.02.2005 06:10:46 PM - nicole
FIRST WEEK IN SOUTH AMERICA

It doesn't feel like I thought it would feel, but then again, what did I expect? Our first impression of Santiago de Chile was that it isn't that different from home. The people don't look totally different, just a little. They wear the same clothes as we do, they like eating in nice restaurants or sitting in a cafe sipping a coffee or a cerveza (beer) and chat. After work they rush to the shopping streets to buy the latest fashion pieces and they're totally into cool sunglasses. Among the old and rusty cars (you see many cool oldtimers) you find the new and shiny BMWs. You see the trendy youth with colourful sneakers, chains hanging from a pocket, complicated looking hairstyles and piercings everywhere in their faces. The parks in the city are all reserved for the lovers. On every bench there is a couple, giggling, looking each other deep in the eyes, kissing or whispering in their ears. In general, the people like showing affection, holding hands, hugging, touching each other - they all look like fresh lovers.

After a couple of days in Santiago - mainly recovering from our monstertrip from Auckland via LAX to Santiago - we took the train south to Temuco. The train was very modern and comfortable (and expensive), they even rented out DVD players and a film to keep you happy. In Temuco we took the bus to Valdivia, a university town. We ended up staying at a private place. This woman has a big house with many rooms, so she rents out the spare rooms. I always like looking into peoples houses and seeing how they live. During breakfast we chatted with her, well let's say we tried to... Our Spanish is pretty much non-existent. Some words are similar to Italian and French and that kept us going. And we kept the conversation simple, she tought us the basic 'breakfast' vocabulary: bread = pain, milk = lecche, jam = mermelade, etc. After our Spanish lesson we strolled around the city but the bad wheather seemed to have followed us from New Zealand, it rained, it was windy and cold. After a day in Valdivia we headed further south, to Puerto Montt, from where we took a bus to Cochamó. This is a very small village in the Lake District. We were surprised about how small it is when we finally got there, but it is really nice and has a lot of charm. It has a beautiful small wooden church and all the houses are very small too, and very colourful. We were staying at a real cozy hotel: a very old wooden house with squeaky floors, even the beds squeaked. The stairs were very steep and narrow, we had to be careful not to fall and break our neck. And the house had this smell like all old wooden houses have - I love it! The owner is a sweet old woman with red cheeks. Many people there have red cheeks, wear boots and a wollen hat, these aren't the city people anymore, it felt more rural, more real. One common method of moving around is by horse. Once we saw a guy on a horse with a cowboy hat, poncho and boots. So this is the famous South American cowboy? Cool.
07.02.2005 06:14:21 PM - nic
07.02.2005 06:15:12 PM - nic
07.02.2005 06:16:00 PM - nic
07.02.2005 06:17:07 PM - nic
07.02.2005 06:18:47 PM - nic
Chile

Nicht wie erwartet ¨urchig¨ und ¨einfach¨ leben die Leute hier, das Leben ist aehnlich wie bei uns. Es hat etwas das Feeling von Italien (auch mit den ¨Nonnas¨, welche uns meistens Unterkunft anbieten). Die Strassen sind ziemlich perfekt und die Fortbewegung in den Bussen komfortabel. Angekommen an einem Ort bieten viele Leute ihr privates Heim zum Uebernachten an. Da die Preise immer etwa gleich sind, faellt auch das ¨guenstigste Angebot rumrennen¨ weg. Die meisten Leute haben einfach ein bis zwei Zimmer, die sie nicht brauchen... Inklusive ist da meistens das Fruehstueck, lecker!

Wie auch zu Argentinien gehoert auch ein Schnitz des ¨Antarktiskuchen¨ zu Chile. Gerechnet mit diesem umspannt Chile fast einen Viertel des Weltumfangs!

Pisco, das Nationalgetraenk (wie auch Argentinien und Bolivien behaupten...), ein Likoer, bereitet uns schon in kleinen Mengen Kopfweh... Das Essen besteht aus massigen Steaks, Sandwiches, Hot Dogs und als Beilage Pommes oder Reis.

Die Leute haben viel Geduld mit uns (die Meisten mindestens), wenn wir versuchen uns zu artikulieren mit Wortfetzen von englisch, franzoesisch und italienisch. Es ist sehr verwirrend. Kleine Erfolge sind taeglich zu verzeichnen, doch der Weg zu einer akzeptablen Konversation ist noch lang.
07.02.2005 06:19:38 PM - nic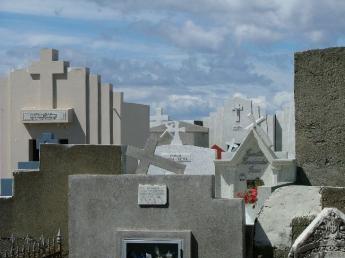 07.02.2005 06:26:40 PM - nic
Nationalpark Torres del Paine. Hier haben auch wir uns vom Trekkingfieber anstecken lassen. Zum Glueck hatten wir noch unser Zelt von Neuseeland dabei. Ist gar nicht so lustig den ganzen ¨Scheiss¨ auf dem Ruecken zu tragen... Lanschaftlich wird dieser Nationalpark seinem Ruf gerecht. Der arktische Wind zwang uns in unsere Expeditionsmontur. Siehe Bilder oben.
07.02.2005 06:27:34 PM - nic
07.02.2005 06:28:32 PM - nic
07.02.2005 06:30:45 PM - nic
Das Plumpsklo ist mit Drahtseilen und Holzpfloecken verankert, der selbstredende Beweis fuer unfassbare Windstaerken!
07.02.2005 06:31:36 PM - nic
07.02.2005 06:33:16 PM - nic
Eine verlassene Holzhuette diente uns als zusaetzlichen Windschutz...
07.02.2005 06:33:51 PM - nic
07.02.2005 06:34:33 PM - nic
07.02.2005 06:35:11 PM - nic
/Travel Diary Chile part 0 (January to February 2005)
<<back