Travel Diary Guatemala part 1 (May to June 2005)
<<back
15.06.2005 01:46:03 AM - nic
GUATEMALA
Ein wunderbar fotogenes Land wo sich sogar viele Maenner noch traditionell kleiden!
15.06.2005 01:47:57 AM - nic
15.06.2005 01:48:33 AM - nic
15.06.2005 01:49:44 AM - nic
15.06.2005 01:51:08 AM - nic
Secondhand Shop a la Guatemala
15.06.2005 01:52:50 AM - nic
15.06.2005 01:54:56 AM - nic
Auch Maenner kleiden sich hier noch teilweise traditionell. Ihre Kleider sind versetzt mit komplexen Stickereien die sich von Ort zu Ort unterscheiden.
15.06.2005 01:55:30 AM - nic
15.06.2005 01:57:46 AM - nic
Am Lake Atitlan, in San Pedro, blieben wir laenger als geplant trotz starker Regenzeit... Dies hier ist unsere Rooftop-Katze Oscar "Scarface" Smith.
15.06.2005 01:58:22 AM - nic
15.06.2005 02:01:17 AM - nic
Toufik or not Toufik.
Is. Was. Always will be.
15.06.2005 02:02:07 AM - nic
15.06.2005 02:02:44 AM - nic
15.06.2005 02:03:31 AM - nic
15.06.2005 02:04:10 AM - nic
Antigua, die urspruengliche Hauptstadt von Guatemala.
15.06.2005 02:04:40 AM - nic
15.06.2005 02:08:33 AM - nic
Das Transportwesen besteht hier hauptsaechlich aus ausgemusterten amerikanischen Schulbussen. Vollgestopft bis zum "gehtnichtmehr" rasen diese ueber die windigen, kurvigen Bergstrassen - moerderisch!
15.06.2005 02:10:40 AM - nic
GUATEMALA CITY - laut, abgasverpestet aber lebendig!
15.06.2005 02:11:17 AM - nic
15.06.2005 02:13:57 AM - nic
Die meisten Stadtbusse sind rot und haben einen kaputten Auspuff - oder ist es Tuning? Auf jedenfall sind sie das lauteste was wir bis jetzt gehoert haben.
15.06.2005 02:14:22 AM - nic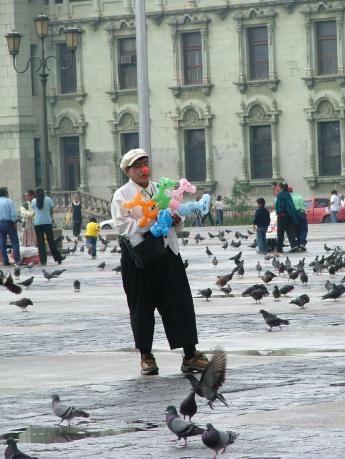 29.06.2005 08:38:32 PM - nicole
GUATEMALA - the country

I really liked Guatemala: A nice, small country with lots of things to see, interesting Mayan culture, nice people. It's a bit too touristy though, I'm not the only one liking it.

Getting around is fun and easy, buses go everywhere and because the country is so small, it never takes longer than a couple of hours. The buses are really cool, old American school buses in funky colours and blinking lights. They fill them up until they almost burst.The drivers are total maniacs, racing those old hauling engines along curvy mountain roads, overtaking when they see absolutely nothing. You start to fear for your life, especially when you see other buses crashed on the side of the road...

Most women still wear their traditional costumes, colourful with complex weaving patterns. Even the very small girls are dressed like that. In some places, even the men are still wearing traditional clothes. This is something we haven't seen many times before. Usually, it's the women keeping these habits and the men wear jeans and 'normal' western clothes. In the highlands in Guatemala quite a few men still dress in the ancient way, costumes and patterns changing from region to region.

It's fascinating to see how resistant the Mayans are towards foreign influence. Around Lago Atitlan the people still talk their local language as their first tongue, Spanish only is their second language.
29.06.2005 08:40:15 PM - nicole
29.06.2005 08:40:53 PM - nicole
GUATEMALA - our trip

Our first plan was to just rush through the country to Honduras. But on the Mexican - Guatemalan border we met this American dude and decided to join him to Lago Atitlan, to the small town of San Pedro La Laguna. We lost him pretty soon but met a bunch of other fun people and got stuck there for around ten days. The days past without much going on, chilling on our rooftop and enjoying being around other people. We cooked most of our meals ourselfs in the communal kitchen of the guest house.

After this little episode we moved on to Antigua, where the active, exploding and lava spewing volcano Pacaya waited for us. Of course, when we went up there, there wasn't much going on, just a veeery little lava flowing, like seeing a rain drop when you expect something like the Niagara Falls... oh well, though luck I guess.

We made one more stop in Guatemala City (got to see every capital), which is a noisy, chaotic and polluted city, not very charming at all. Stayed there a day and made our way towards Honduras. We took a bus to Puerto Barrios on the Guatemalan coast. The contrast was quite intense: stepping on the bus in the cool highlands of Guatemala City and getting of in tropical Puerto Barrios five hours later. From there it's a short trip to the border of Honduras.

Guatemala isn't a modern place at all, but Honduras seems to be several steps behind. Right at the border, where the sign says HONDURAS, the paved road stops and a dusty dirt road continues. A pick-up truck took us to Corinto, where we got our entry stamp. After a two hour bus ride we arrived in Omoa, where we finally met Roli, my Dad's cousin. He lives here since nine years (after travelling for six years) and has built up his own little guest house . It's a cool, innovative and lovely little place. He takes good care of everything, does everything himself, even building all the beds. It's a nice spot, even though the beach isn't quite what you expect of the Caribbean, you have to go to the islands for that...
/Travel Diary Guatemala part 1 (May to June 2005)
<<back