Travel Diary Myanmar part 0 (February 2004)
<<back
28.02.2004 03:18:16 PM - nicole
ARRIVAL IN MYANMAR (BURMA)

Myanmar (Burma) - What a culture shock!
We were quite nervous going through passport ckeck and customs. I pictured some fierce and evil looking officials who would search our bags and confiscate all our electronical equipment such as our precious ipod and camera - or even refuse to let us into the country at all. But no such thing at all, as usual, things you read or hear from others just scears the shit out of you for nothing. What was a bit unusal for us was the SARS check. First we had to fill out this form on the airplane about any symptons or having spent time with someone infected with SARS in the recent 10 days (hope not - but how the hell should I know?!). Then entering the airport building we saw our bodies on a screen with heat patterns (Waermebild). They let Nic pass, but pointed a gun shaped thing at my head - geez, the only thing missing was the read point!! But then they were satisfied with me too and let me through... The rest was nothing, showing passport, wait a minute or two, smile and pass...

We took a taxi to the city. Wow - how different everything looks, this IS different. The first thing we noticed that was so different: almost all men wear skirts, yes, true! Cars are really old, not like in Thailand where more pick-up trucks cruise around than in the United States. Buses are so crowded that they hang on to them on the back; I even saw some people sitting on the roof of some buses.

Flying really is like beaming. You sit in a plane in Bangkok and get out in a place that is so completely different...

After finding and settling in a hotel, we strolled around the city, probably mouth and eyes wide open. There was a certain kind of hectic, difficult to describe - cars, trucks, bicycles, yelling people... this is how I picture India, though I've never been there. There are many Indians in Yangon, the British brought them here. There is a lot of Indian and Chinese influence.
We notice that almost all women and children have a golden powder on their cheeks, some have it on their nose too, and others even on the whole face. We were told that this is for their beauty and also good for the skin. Strange things...
There are hundreds of tea houses scattered along the streets, with mini-tables and mini-chairs, like from the IKEA kids department. Here too: life takes place on the streets.
In the evening, sitting in one of those tea houses, suddenly all the lights go out. People start klapping and cheering. It's pitch dark from one moment to the other. But not for long: They just kick their generators and here and there the lights pop up again, now accomanied by the humming sound of the generator. Who cannot afford one, helps out with candles. The power supply is a real problem in the whole country, so almost everyone, every hotel, building, shop, etc has a generator to help out during another blackout, which occurs several times a day! Good for the petrol industry...


28.02.2004 03:19:51 PM - nicole
28.02.2004 03:21:48 PM - nicole
Alle schauen uns interessiert und neugierig an.
28.02.2004 03:23:14 PM - nicole
28.02.2004 03:24:54 PM - nicole
Die Leute hier sind Profis im Vollladen. Einer mehr geht immer noch rein...
28.02.2004 03:25:43 PM - nicole
Gold im Gesicht als Schoenheitsideal
28.02.2004 03:26:50 PM - nicole
28.02.2004 03:27:58 PM - nicole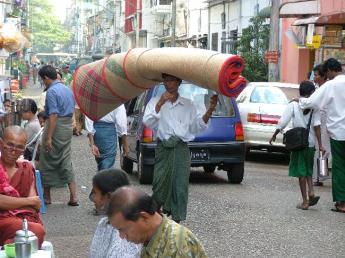 28.02.2004 03:29:27 PM - nicole
Telefonieren in Myanmar
28.02.2004 03:30:32 PM - nicole
Ein Markt an jedem Strassenrand.
28.02.2004 03:31:05 PM - nicole
BAGAN
A couple of days later we decided to leave Yangon and head north towards Mandalay, with a stop in Bagan. This area is famous for its thousands of really old temples and ruins scattered all over the place. Sounds good - we want to see the old stuff. So we bought a ticket for the 14 hours bus trip to Bagan.
The bus left at 3 pm and while waiting for it I bought the fatal noodles with vegetables and pork. Nic and I had our seats in the back row - bad thing number two on that journey. This meant we really felt the bumps on this horrifying trip. The streets weren't paved all the way through, and even when, you didn't really feel the difference. And the bus driver seemed to be in a hurry, so we went flying over all these millions of bumps and holes hell!!
After two or three hours Nic's stomach decided to turn and he started to feel really sick. The noodles we ate before had been a BIG mistake...
After hours of feeling miserable and almost dying, the bus came to a halt and some uniformed men entered and made all foreigners get out. It was like 3 o'clock in the morning. We all looked helpless at each other, but emerged the bus without fussing. There was a huge green sign which told us that we were now entering the archaelogical zone of Bagan and all foreigners were forced to pay USD 10. OK, nothing we could do about it. Of course, our passports were checked and registered too. But one good thing about it - 10 mins later we finally arrived in the town of Bagan - alive! We hadn't gotten out of the bus properly, when a whole bunch of people gathered around us asking "Taxi??", "Guest house?". We put us together with some of the other foreigners to keep the costs down and agrreed to an offer. The taxis were bicycles - what a surprise! They had something like a "Seitenwagen" like some motorbikes have, with two seats, one facing backwards, one facing forward - how cool! The backpack was tied to the backseat, I took the other seat facing forward. In the middle of the night we were cruising down a completely dark and unknown street, it was all quiet, the bicycles were like floating - am I dreaming??
Finally we fel on our beds and could sleep proparly, not crumpled up in a tiny seet in the bus. But then, as the day rose, I started to feel real shitty too... Welcome to Myanmar, I guess...
We needed a day to recover from our sickness, we still weren't 100% fit, but well enough to explore Bagan. We rented bikes from our guest house and off we went. Temples wherever you look - unbelievable!! Some you see are really old, others have been rebuilt. We were told that once there have been 2200 temples in the area, but in 1975 there was a big earthquake that destroyed many of them. Now a number of around 1300 is left. It's still a great deal, you just have to turn your head and you spot several other ones. Incredible, real stunning!
The town of Bagan is amazing too. Here time has stopped. It seems like another time, another world. There are horse carts functioning as taxis, carts pulled by oxes pulling heavy loads of different things - real rural life. Here, the buses are so crowded, that whoever could not squeeze into the bus just takes a place on the roof. It looks real dangerous, but somehow it seems to work...
28.02.2004 03:31:59 PM - nicole
28.02.2004 03:32:19 PM - nicole
Transportmoeglichkeiten:
28.02.2004 03:33:30 PM - nicole
28.02.2004 03:35:02 PM - nicole
28.02.2004 03:36:20 PM - nicole
28.02.2004 03:37:15 PM - nicole
28.02.2004 03:38:27 PM - nicole
28.02.2004 03:39:27 PM - nicole
28.02.2004 03:39:44 PM - nicole
TO MANDALAY

We left Bagan on 15.02.2003. It was a really pleasant bus ride to Mandalay. Our bus was more than crowded, many people sitting on the roof, and I don't know how they managed to fit so many people in the bus in the first place. People just kept entering, somehow disappeared in the back again... But we had our seats and enough space, so no complaining, just look out of the window and enjoy! It took around 10 hours. It's a nice way to explore the countryside, we passed small villages looking like professional "Pfahlbaudoerfer", amazing! Here people really still know how to survive with almost nothing. I guess they are really poor, don't have much, but life is simpe here, they don't need a lot...
Mandalay is very dusty. You get so dirty within 5 mins being outside. And on the street is quite a chaos - cars, bicycles, trikshaws, even horse carts sometimes, and then all the dust - what a mess!


28.02.2004 03:40:59 PM - nicole
Bus to Mandalay
28.02.2004 03:42:15 PM - nicole
28.02.2004 03:43:21 PM - nicole
28.02.2004 03:44:53 PM - nicole
28.02.2004 03:46:26 PM - nicole
28.02.2004 03:47:39 PM - nicole
Schueler
28.02.2004 03:48:40 PM - nicole
Palace Wall from Mandalay
28.02.2004 03:50:23 PM - nicole
28.02.2004 03:51:25 PM - nicole
28.02.2004 03:52:41 PM - nicole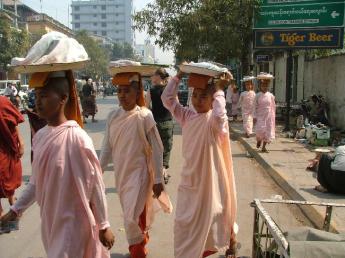 28.02.2004 03:53:02 PM - nicole
A NICE SITUATION IN MANDALAY
One day we rented bikes to ride to Yanking Hill. We climbed up the stairs (barefoot of course) to the pagoda and monatery. There a monk started talking to us, though his English was limited to asking some questions , barely understanding our answers. He was really nice and showed us the way around up there. He even showed us another way back down the hill. He walked us back direction where we had our bikes and from where we've started. We wondered whether he had any intentions or was just extremely friendly. We passed a school where he started to explain something to us about an English teacher. Now we understood: He wanted us to meet his English teacher. We agreed - this might be an interesting situation. Some kids, all dressed in the red monk robes, followed us, nosey as kids are.The teacher jumped to his feet as we entered his cozy little one room hut, where he was sitting on the floor talking to a grown-up monk. He introduced himself as Peter, Mr Peter. Hastely he invited us to sit down and make ourselfs comfortable. More and more kids were poking their heads through the door and peeking inside to take a glimpse at the two strangers. Mr Peter started to talk about his past life, of which he spent many years abroad, in Japan, Australia and even Germany. By now, a dozen little monks have gathered around us, all sitting quietly on the floor and staring at us, smiling and giggling whenever we looked at them. They look so cute with their robes in different shades of red, shaved heads, big eyes, cheeky grin - beautiful. The ones who didn't have space in the room peeked through the window. All in all it was a lovely scene. As we left, we took some pictures in front of the tiny hut. By now I think the whole school has gathered, dozens and dozens of kids, all wanting to be on the picture. We thanked the monk who brought us here and thanked Mr Peter for inviting us in and waved all the kids good-bye. A cheerful crowd of sweet little monks waved back and cheered in chorus "bye-bye". What an experience!
28.02.2004 03:54:05 PM - nicole
28.02.2004 03:55:12 PM - nicole
28.02.2004 03:56:22 PM - nicole
28.02.2004 03:57:59 PM - nicole
Starcola TakeAway
28.02.2004 03:59:25 PM - nicole
Eine eher unpraktische Farbe zum Reisen: weiss...
28.02.2004 04:00:34 PM - nicole
Kehrichtentsorgung
28.02.2004 04:01:55 PM - nicole
28.02.2004 04:03:18 PM - nicole
on the way to inle lake
28.02.2004 04:03:33 PM - nicole
INLE LAKE
So we moved on to Nyaungshwe, were beautiful and impressive Inle Lake lies. The journey took another 10 hours. I liked the village from the moment we entered. It has something clean, neat and friendly. Together with a guy we met on the bus (Tim from Belguim), we arranged a boat trip on the lake. This way we could share the costs and he seemed to be a nice and interesting person. The boat trip was fantastic. We got up real early to be ahead of the tourist crowd and enjoy the mystic atmosphere on the lake in the early morning, when there is still some fog on the surface of the water. The sight was real stunning - it made up for the early rising (5 am!!!)
Our boat driver / guide brought us to many different places: villages built on water, a floating garden, market, monastery surrounded by water - it was an on-and-off the boat all day. Everything was all impressive for us, it all looked so perfect and idyllic. People live like 100 years ago. Sometimes I had the impression they just put it up all for us. It is a very touristic place, but the villages and tribes and their techniques have been there for a long time. Now they have additionally just have show rooms where they amaze us with their way of life. We spent the whole day on the boat - from sunrise to sunset. This way we could avoid spending the USD 3 government taxes (admission fee for lake).
28.02.2004 04:05:41 PM - nicole
28.02.2004 04:07:22 PM - nicole
28.02.2004 04:08:20 PM - nicole
6 AM on the lake
28.02.2004 04:09:10 PM - nicole
28.02.2004 04:12:00 PM - nicole
28.02.2004 04:13:45 PM - nicole
28.02.2004 04:15:15 PM - nicole
28.02.2004 04:16:29 PM - nicole
Floating garden
28.02.2004 04:17:57 PM - nicole
12 hours later: sunset
28.02.2004 04:18:49 PM - nicole
new hat
28.02.2004 04:25:52 PM - nicole
We left that peaceful place by plane, flying out of Heho to Tachilek, which is situated directly at the Myanmar/Thai border. It wasn't possible to go all the way by bus, they won't let foreigners go through that region... We didn't quite know how easy it would be crossing the border (again, we heard all different sorts of stories). In the end, the taxi driver let us out in front of the bridge, pointing towards it and mumbling Immigration or so... We saw many Thai flags announcing that on the other side was Mae Sai, Thailand. We simply walked across the bridge, filled out a form on each side and voila, we're back in Thailand, which feels like home, so familiar. Almost too easy... Thailand seemes ultra modern compared with where we just came from.
28.02.2004 04:37:48 PM - nic
Myanmar (ehemals Burma)

Ich habe mir Myanmar folgendermassen vorgestellt: Huegelige, gruene Landschaft und viel Wasser. Vielleicht noch einige steinzeitliche Booetchen im Wasser. Diese Vorstellung ist natuerlich nicht sehr tiefschuerfend, aber haben wir das nicht alle von gewissen Orten, ohne ueberhaupt je richtig bewusst darueber nachzudenken, dass es noch weitere Facetten geben muss, die einen Ort definieren? Ich habe sowieso von vielen Orten eine sehr kleine unrealistische Vorstellung, die ich aber gerne von der Realitaet umstossen lasse. Gehoert wohl auch in den Bereich ?learning by doing?. Und vielleicht waere Myanmar auch wirklich bedeutend gruener, wenn nicht gerade Trockenzeit waere?
Jetzt aber zu Myanmar: Angekommen am Flughafen waere ich gerne wieder ins Flugzeug eingestiegen. Ich hatte Angst ich muss gleich ?einruecken? (mein Trauma lebte kurzfristig wieder auf?). So viele gruene Maennchen, wie ein schlechter Traum. Aus Angst um den Ipod habe ich die Kopfhoerer montiert, damit er wirklich nur wie ein Musik-Player aussieht. Die grosse Chipkarte der Kamera habe ich durch die kleine ersetzt, falls diese uns schon beim Empfang entrissen werden wuerde. Journalisten sind nicht gern gesehen und Kamera und Kabel, das sagt doch schon alles? In Thailand haben alle gesagt: ?Geht nicht dahin!? Es sei gefaehrlich und das Militaerregime solle man nicht unterstuetzten. Man hoert sowieso immer alles moegliche: Es sei so schoen irgendwo und der naechste meint wieder genau das Gegenteil. Auch sei etwas moeglich und jemand anders ist totsicher dass es nicht moeglich ist. Eine riesen Geruechtekueche. Grundsaetzlich ist man dann im Endeffekt immer sehr positiv ueberrascht und stellt fest, dass viele Leute frei von der Leber weg was behauptet haben.
Waehrend ich das jetzt am Schreiben bin, wird es ploetzlich stockdunkel, das Licht ist ausgefallen. Wir haben uns, wie auch die Bevoelkerung, bereits daran gewoehnt. Die Stromversorgung ist, mit der Ausnahme von der Umgebung von Militaeranlagen, im ganzen Land nirgends gewaehrleistet. Man hat sich damit abgefunden und jeder besitzt einen mit Benzin betriebenen Generator, der ca. 50 Prozent der Zeit zum Einsatzt kommt! Dazu haben Sie ein Schaltbrett, auf welchem die Schalter dann einfach gewechselt werden. Eine Gluehbirne zeigt an, wenn wieder ?oeffentlicher Strom? bezogen werden kann. Jetzt gerade laueft der Generator und er scheint im Zimmer nebenan zu stecken. Ein dumpfes lautes Vibrieren ist zu hoeren.
Zum Thema Schoenheitsideal: Es wird uns wieder einmal aufgezeigt, wie wenig diese Ideale einer nuechterner objektiver Betrachtung zu Grunde liegen. Hier schmiert man sich (vorwiegend Frauen) eine goldige Farbe ins Gesicht (sie soll auch sehr gesund sein fuer die Haut?). Speziell auf die Wangen, die einen schoen gleichmaessig und aus meiner Sicht ?esthetisch?, die anderen wild verschmiert bis ueber die Ohren. Man sieht Jugendliche von 10-20 Jahren mit rotem Lippenstift (und da schauen uns diese komisch an =))! Die grosse Mehrheit traegt Roecke, die so weit sind, dass sie sie auch gleich in sich selber verknoten koennen. Da faellt mal wieder auf wie abartig nur schon der karierte Nylonstoff meiner Shorts auf sie wirkt, ganz zu schweigen von meinen Turnschuhen. Hier tragen alle Schlarpen.
Yangon die Hauptstadt ist sehr speziell und ist von meiner Empfindung her sehr anders als alles Bekannte, nicht wie z.B. Bangkok. Man ist hier in der Zeit stark zurueckgeworfen und ist alles im Umbruch, new meets old? Die Leute sind sehr freundlich, hilfbereit und jeder hat eine Dienstleistung anzubieten. Wenn diese abgelehnt wird, kommt dann immer noch die Frage: ?Change Money?? Das Geldwechseln laueft hier auf der Strasse ab, niemand geht dazu auf die Bank, dort ist der Wechselkurs viel schlechter! Wir wollten mal zwanghaft Traveller Cheques wechseln und haben dazu einige Banken aufgesucht, dort laueft alles noch von Hand, kein einziger Computer, nur Taschenrechner! Auch ein lustiges Detail: Wenn man eine 100er Note wechselt, kriegt man einen besseren Kurs als fuer kleine Noten im gleichen Betrag?
Yangon ist mir sympatisch auch wenn das Thema Essen mir ziemlich schlecht bekommt. Und wenn man beschliesst einfach nichts mehr zu essen, hat das auch so seine Tuecken? Auf der Strasse herrscht das totale Chaos von einer Art Rickschas, Velos, Fussgaenger, Leute die irgend einen Wagen ziehen, andere die einen stossen, solche die ihre Last auf dem Kopf tragen, Toefflis, Toeffs, Autos, ehemalige Autos, die aber immer noch fahren, Traktoren ohne Verkleidung, motorisierte Dreiraeder, Busse und Lastwagen, bis zurueck zu den ersten die Henry Ford gebaut hat? und alle fahren gleichzeitig und irgendwie faehrt man mal, bis man gezwungen ist jemanden zu ueberfahren, was man sich dann anscheinend doch nicht so recht getraut und dann gezwungener Massen doch mal wieder bremst. Irgendwie so, und es funktioniert!
Ein Ort wie Bagan gibt es glaube ich keinen Zweiten auf der Welt. Von den ca. 2500 Tempeln von denen 1975 bei einem Erdbeben ca. 1000 zerstoert wurden, ist einer fantastischer als der andere.Es hat auf einem so kleinen Fleck so viele, dass man immer ca. 30 bis hundert in Sichtweite hat. Etwas viele (wohlgemerkt fuer Myanmar!) Touristen hat es auch, aber doch nicht so viele wie Tempel, daher kann man diese in aller Ruhe geniessen. Extrem empfehlenswert! Die Armut kriegt man hier auch stark zu spueren. Fast jedes Kind kommt zu springen und schreit ? Hello Money?, oder auch ?Present, present?. Auch Frauen mit Babys bleiben einfach vor einem stehen und nach einigen Minuten moechten dann auch sie ein present? Das kann dann doch anstrengend werden, wenn man (wie sehr oft durch irgendwelche Laermquellen oder auch andere Einfluesse) nicht sehr viel Schlaf gekriegt hat oder durch andere Umstaende kaputt ist und nur etwas Frieden und Ruhe moechte. Wer nicht gerne im Mittelpunkt steht sollte noch einige Jahre warten mit nach Myanmar gehen =)?
Mandalay wirkt wie ein modernes Yangon. Der Kontrast alt/neu ist hier am staerksten. Im Zentrum hat es z.B. ein Gebauede wo im Parterre ein klassischer Marktplatz: Leute, die alles Moegliche wie Stoff und Porzellan auf dem staubigen Boden anbieten, dann im dritten Stockwerk ein Internetcaffe so modern und chic eingerichtet, mehr geht auch fuer unser Verstaendnis nicht: Neueste PCs mit XP und bei der Moebelierung wurde auch nicht gespart: In den Ecken edelste Ledersofas mit grossen Glastischen davor. Kleine Anmerkung: Alle Webmails die sie entdeckt haben, sind gesperrt. Z. B. Yahoo, GMX und sogar Bluewin Freemail! Sie moechten gerne Ihre eigenen Mailprovider foerdern? Sie scheinen das Internet noch nicht ganz zu verstehen. Es ist aber erst der Anfang und daher wird sich auch das noch aendern. Ich brauchte dann aber doch ca. 15 Minuten, bis ich ein nicht gesperrtes Account gefunden habe, Jesus.ch, danke an diesem Punkt noch allen Cyberchristen der Schweiz!
Zum Inle Lake moechte ich nicht viel sagen, nur: Unglaublich, fantastisch, habe bei diesem 12 Stunden Bootstrip ueber 400 Bilder in hoechster Euphorie (trotzt starkem Grippegefuehl) geschossen. Dort ist die Welt, trotzt Touristen,noch wirklich paradiesisch in Ordnung!
Myanmar allgemein. Jetzt wo ich wieder zurueck in Thailand bin (wir mussten aus Geldgruenden dann leider Myanmar etwas verkuerzen, no chance to get any cash?) bin ich begeistert von diesem Land und freue mich jetzt schon dieses Land in einigen Jahren wieder mal zu besuchen und die Entwicklung zu sehen. Die Bewegungfreiheit in diesem Land ist immer noch stark eingeschraenkt, zur Eigenen Sichereheit, wie es heisst. Also machen alle Besucher mehr oder minder die gleichen Routen. Vielerorts kann man nur mit Package-Tours hinkommen, dies oft nur fuer sehr viel Geld. Andererorts muss man fliegen, auch wiederum sehr teuer. Der Tourismus ist erst seit 1994 vorhanden, seit ca. 98 exponentiell steigend. Das merkt man auch anhand der Leute, die uns alle interessiert beobachten, bis eher verwirrt anlaecheln. Auch sind wir so auffaellig, dass so zienmlich ausnahmslos jeder uns mit einem ?hello? gruesst. Jede touristische Attraktion kostet 5-10 Dollar. Man wird nach Strich und Faden ausgenommen. Daher sollte man, wenns geht, z.B. oeffentliche Verkehrsmittel meiden, Privatbusse staatlichen Infrastrukturen vorziehen. Dann fliesst das Geld auch ins Volk. Das Land entwickelt sich rasant. E-Mail und Internet z. B. werden bald ueberall Einzug halten. Ich habe das Gefuehl das Land entwickelt sich in eine positive (dem Volk zu gute kommende) Richtung.
/Travel Diary Myanmar part 0 (February 2004)
<<back