Travel Diary Java, Bromo, Indonesia
<<back
23.08.2004 07:51:50 AM - nicole
Finally arrived in East-Java, Bromo Region, where we were the first time really happy about our sleeping bags...
23.08.2004 07:53:13 AM - nicole
WITH ONE HORSEPOWER AROUND BROMO

We decided to go to Mt. Bromo while looking at a postcard with a spectacular sight of the volcano and its surroundings. As we arrived in the little village of Cemoro Lawang, we had exactly the same sight as on that postcard. It is an amazing sight. Two volcanos next to each other: one of them Bromo, still active (actually killed three people just about three/four weeks ago by exploding and shooting stones and rocks about), a huge crater looking like a lunar landscape. The second volcano is called Batok, perfect shape of a typical volcano with the flat summit, it's green colour giving an intresting contrast to the grey and black sand of Bromo. There is a third one in the area, but it's hidden behind the other two.

There were many men on horses around Cemoro Lawan offering a ride to Bromo and back. We both liked the idea with the horses (thank god it wasn't just me :-), but we didn't like the idea of the horsemen walking next to us, and we didn't just want to go to Bromo and back again, a distance which takes about an hour on foot. So we started to negotiate with some of the horsemen about our own customised tour> We wanted to hire two horses together with one guide on a horse. We didn't want anybody walking next to us. And we wanted to go all the way around the Bromo area, if somehow possible. It took us a while to explain this to them and then it took us another while to negotiate a price that suited everyone. We were rewarded for our patience and had a deal for the next day at 9am for a trip that would take roughly 5 - 7 hours. Perfect! I should mention at this point that Nic had never even sat on a horse before, but he wasn't too worried about it. And I assured that the first time on a horse isn't as difficult as the first time driving a car - no clutch and stick shift and nothing. And I guessed that we'd be going slowly anyway. So the next day we met our happy, always smiling horseman with the three horses . We mounted and took off. Nic sat on the small light brown one, me on the big white one and the guide took his with the spikey mane. Before us lay the beautiful flat steppe called the sea of sand, the kind of landscape that is perfect to discover on the back of a horse - my dream! The first ten minutes or so we were just walking behind each other, Nic getting used to the rocking rhythm of the horses walk, me just smiling and enjoying the moment, once in a while glancing over my shoulder checking on Nic - he was doing fine. Then our guide decided to speed up a little, explaining that hissing something like "hshh" would make them go faster. Well, from that moment Nic's horse, still a rather young one, noticed that it had an unexperienced rider on it's back and started to fool around. It didn't go faster but started to turn to the right and walk off in that direction. Ok, the horse may not have a clutch and it sure has no steering wheel and Nic had his problems persuading it to walk our direction again. He tried hard, though... So the guide swapped his horse with Nic's, and Nic was now sitting on the one with the spikey mane. This worked much better, for one reason because the guide was now at the back of our little row, Nic in the middle and me up front; and whenever "Spikey" heard the "hshh" of its owner, it did what it was supposed to do. We trotted for a while through the steppe, the perfect setting for every western movie. After a while I started to feel sorry for Nic, because if you're not used to the horse's trott it can really shake you up and can get really tiring. But as I always heard his enthusiastic "hshh" behind me, I thought alright then, let's go on.

We finally slowed down as the landscape changed, it got slightly hillier and the path narrowed and wasn't as flat anymore. I gladly noticed that Nic and Spikey were cooperating just fine. From far I had noticed that an area in front of us was on fire and we were steadily approaching this area. As the hissing of the flames grew louder and the smoke thicker I looked at our guide in question, but he just went "Is no problem, is no problem!". Well, my horse didn't think it is no problem or just simply didn't understand him and stood still, didn't want to move further. The flames weren't high at all, just on ground level, but still, the sound was quite scary - for me too. So I got off and started talking to the horse, pulled a little and finally, taking one step carefully after the other we passed the obstacle, the others following. We walked a bit further away from the danger, the wanted to get on the horses again, but this proved to be a problem. Nic's horse was angry at its owner for betraying it and sitting on another horse, so it started kicking around, trying to hit the owner. I was real scared about Nic, but he was so cool about it, holding it tight and even telling it off! From now on, whenever we got off and wanted to get back on again, there were some turbulences. But then, after walking a bit, they forgot all about it and trotted along, totally calm.

The landscape changed again and we went through a forest, a cool break from the heat of the plain. We were now riding for about three hours, and we felt it in our bums and knees. We left the forest behind us, walked down a long and steep path until we were back on the plain again, the ground becoming more and more sandy - perfect for a little gallop, I thought. Nic was still happily hshhing behind me. My horse liked the idea too, picked up pace and fell into a soft, smooth gallop. Oh man, I had forgotten what a wonderful feeling this is! I looked over my shoulder and noticed that Spikey was galloping too, but I couldn't see Nic's expression on the face. As we slowed down again he was sure that his horse had just taken off and flew over the sand.

The sand changed its colour to grey and black, there was no more vegetation, we were in the middle of a black desert. To our left we saw the back of Bromo, black sandy hills. It was like riding on the moon! More gallops. The horses grew more and more excited, we could hardly stop them, we were approaching home. In the distance we saw the village on the edge of the crater, coming closer and closer.

In the end the trip took six hours. Getting of the horse and jumping to our feet was painful. We wondered how tomorrow would be... I was glad that Nic enjoyed it as much as he did and would do it again. It was quite a long ride for the first time, and not always that smooth. It was like lesson one to ten packed in one. He even had a souvenir of our little adventure: He had two huge blisters on his behind, which prevented him from sitting and lying comfortably for at least two weeks...
23.08.2004 07:55:05 AM - nicole
23.08.2004 07:56:08 AM - nicole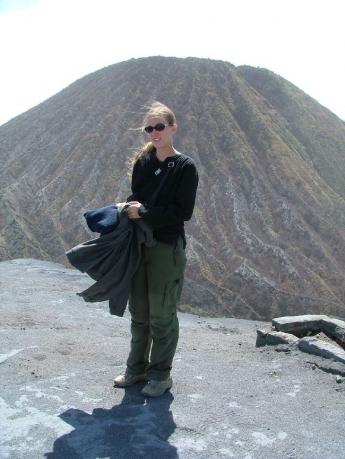 23.08.2004 07:56:38 AM - nicole
23.08.2004 07:57:44 AM - nicole
23.08.2004 08:00:02 AM - nicole
23.08.2004 08:00:32 AM - nicole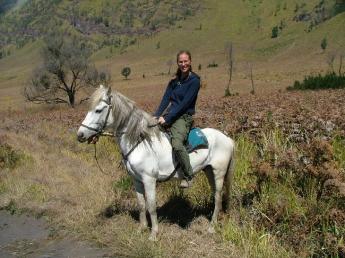 23.08.2004 08:01:49 AM - nicole
23.08.2004 08:02:19 AM - nicole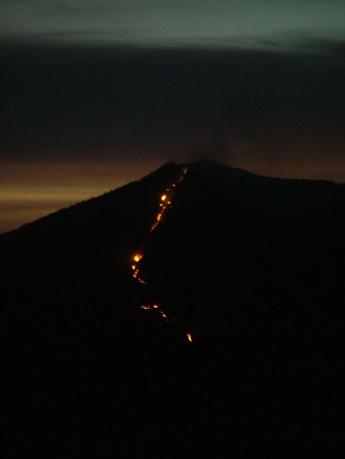 /Travel Diary Java, Bromo, Indonesia
<<back