Travel Diary Mandalay, Myanmar
<<back
28.02.2004 03:39:44 PM - nicole
TO MANDALAY

We left Bagan on 15.02.2003. It was a really pleasant bus ride to Mandalay. Our bus was more than crowded, many people sitting on the roof, and I don't know how they managed to fit so many people in the bus in the first place. People just kept entering, somehow disappeared in the back again... But we had our seats and enough space, so no complaining, just look out of the window and enjoy! It took around 10 hours. It's a nice way to explore the countryside, we passed small villages looking like professional "Pfahlbaudoerfer", amazing! Here people really still know how to survive with almost nothing. I guess they are really poor, don't have much, but life is simpe here, they don't need a lot...
Mandalay is very dusty. You get so dirty within 5 mins being outside. And on the street is quite a chaos - cars, bicycles, trikshaws, even horse carts sometimes, and then all the dust - what a mess!


28.02.2004 03:40:59 PM - nicole
Bus to Mandalay
28.02.2004 03:42:15 PM - nicole
28.02.2004 03:43:21 PM - nicole
28.02.2004 03:44:53 PM - nicole
28.02.2004 03:46:26 PM - nicole
28.02.2004 03:47:39 PM - nicole
Schueler
28.02.2004 03:48:40 PM - nicole
Palace Wall from Mandalay
28.02.2004 03:50:23 PM - nicole
28.02.2004 03:51:25 PM - nicole
28.02.2004 03:52:41 PM - nicole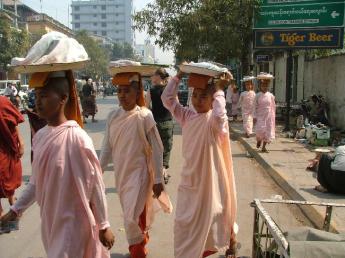 28.02.2004 03:53:02 PM - nicole
A NICE SITUATION IN MANDALAY
One day we rented bikes to ride to Yanking Hill. We climbed up the stairs (barefoot of course) to the pagoda and monatery. There a monk started talking to us, though his English was limited to asking some questions , barely understanding our answers. He was really nice and showed us the way around up there. He even showed us another way back down the hill. He walked us back direction where we had our bikes and from where we've started. We wondered whether he had any intentions or was just extremely friendly. We passed a school where he started to explain something to us about an English teacher. Now we understood: He wanted us to meet his English teacher. We agreed - this might be an interesting situation. Some kids, all dressed in the red monk robes, followed us, nosey as kids are.The teacher jumped to his feet as we entered his cozy little one room hut, where he was sitting on the floor talking to a grown-up monk. He introduced himself as Peter, Mr Peter. Hastely he invited us to sit down and make ourselfs comfortable. More and more kids were poking their heads through the door and peeking inside to take a glimpse at the two strangers. Mr Peter started to talk about his past life, of which he spent many years abroad, in Japan, Australia and even Germany. By now, a dozen little monks have gathered around us, all sitting quietly on the floor and staring at us, smiling and giggling whenever we looked at them. They look so cute with their robes in different shades of red, shaved heads, big eyes, cheeky grin - beautiful. The ones who didn't have space in the room peeked through the window. All in all it was a lovely scene. As we left, we took some pictures in front of the tiny hut. By now I think the whole school has gathered, dozens and dozens of kids, all wanting to be on the picture. We thanked the monk who brought us here and thanked Mr Peter for inviting us in and waved all the kids good-bye. A cheerful crowd of sweet little monks waved back and cheered in chorus "bye-bye". What an experience!
28.02.2004 03:54:05 PM - nicole
28.02.2004 03:55:12 PM - nicole
28.02.2004 03:56:22 PM - nicole
28.02.2004 03:57:59 PM - nicole
Starcola TakeAway
28.02.2004 03:59:25 PM - nicole
Eine eher unpraktische Farbe zum Reisen: weiss...
28.02.2004 04:00:34 PM - nicole
Kehrichtentsorgung
28.02.2004 04:01:55 PM - nicole
/Travel Diary Mandalay , Myanmar
<<back