Travel Diary Yangoon, Myanmar
<<back
28.02.2004 03:18:16 PM - nicole
ARRIVAL IN MYANMAR (BURMA)

Myanmar (Burma) - What a culture shock!
We were quite nervous going through passport ckeck and customs. I pictured some fierce and evil looking officials who would search our bags and confiscate all our electronical equipment such as our precious ipod and camera - or even refuse to let us into the country at all. But no such thing at all, as usual, things you read or hear from others just scears the shit out of you for nothing. What was a bit unusal for us was the SARS check. First we had to fill out this form on the airplane about any symptons or having spent time with someone infected with SARS in the recent 10 days (hope not - but how the hell should I know?!). Then entering the airport building we saw our bodies on a screen with heat patterns (Waermebild). They let Nic pass, but pointed a gun shaped thing at my head - geez, the only thing missing was the read point!! But then they were satisfied with me too and let me through... The rest was nothing, showing passport, wait a minute or two, smile and pass...

We took a taxi to the city. Wow - how different everything looks, this IS different. The first thing we noticed that was so different: almost all men wear skirts, yes, true! Cars are really old, not like in Thailand where more pick-up trucks cruise around than in the United States. Buses are so crowded that they hang on to them on the back; I even saw some people sitting on the roof of some buses.

Flying really is like beaming. You sit in a plane in Bangkok and get out in a place that is so completely different...

After finding and settling in a hotel, we strolled around the city, probably mouth and eyes wide open. There was a certain kind of hectic, difficult to describe - cars, trucks, bicycles, yelling people... this is how I picture India, though I've never been there. There are many Indians in Yangon, the British brought them here. There is a lot of Indian and Chinese influence.
We notice that almost all women and children have a golden powder on their cheeks, some have it on their nose too, and others even on the whole face. We were told that this is for their beauty and also good for the skin. Strange things...
There are hundreds of tea houses scattered along the streets, with mini-tables and mini-chairs, like from the IKEA kids department. Here too: life takes place on the streets.
In the evening, sitting in one of those tea houses, suddenly all the lights go out. People start klapping and cheering. It's pitch dark from one moment to the other. But not for long: They just kick their generators and here and there the lights pop up again, now accomanied by the humming sound of the generator. Who cannot afford one, helps out with candles. The power supply is a real problem in the whole country, so almost everyone, every hotel, building, shop, etc has a generator to help out during another blackout, which occurs several times a day! Good for the petrol industry...


28.02.2004 03:19:51 PM - nicole
28.02.2004 03:21:48 PM - nicole
Alle schauen uns interessiert und neugierig an.
28.02.2004 03:23:14 PM - nicole
28.02.2004 03:24:54 PM - nicole
Die Leute hier sind Profis im Vollladen. Einer mehr geht immer noch rein...
28.02.2004 03:25:43 PM - nicole
Gold im Gesicht als Schoenheitsideal
28.02.2004 03:26:50 PM - nicole
28.02.2004 03:27:58 PM - nicole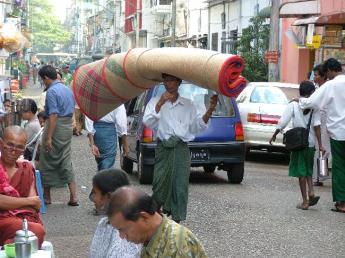 28.02.2004 03:29:27 PM - nicole
Telefonieren in Myanmar
28.02.2004 03:30:32 PM - nicole
Ein Markt an jedem Strassenrand.
/Travel Diary Yangoon , Myanmar
<<back